My coeliac disease story: Sam Chettleburgh
Coeliac UK's Food Information Officer, shares his coeliac disease story, plus some edible gluten free gift ideas for Tales from a Gluten Free Christmas..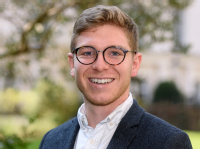 "Food has always been a passion in my life, which led to me to study Food Science and Technology at University in Cardiff, and then to working in the food industry. I was in my first year of university in 2011 when I first started experiencing symptoms of coeliac disease – although I was unaware it could be this at the time. I suffered regular mouth ulcers but blamed it on late nights and university life.
"After four years at university, where I was consuming lots of gluten in the form of toast, pasta and beer, unaware that they were causing the typical gut symptoms and mouth ulcers, I started my first job as a Product Developer, creating soups, pasta sauces, gravies and porridge for supermarkets and large coffee shop chains. It was towards the end of this role that I experienced a crescendo of the issues I was having with ulcers. My whole face had swollen up, especially around my lip, and after 24hrs multiple ulcers had broken out all over my mouth, down my throat and lips. This made eating extremely painful. Smiling and laughing became something I was trying to avoid as it would reopen the cuts around my lips and edges of my mouth. I ended up liquidising plain beans, water and cheese and eating through a straw for a couple of weeks until it had calmed down.
"My mother, who also has coeliac disease, had remembered seeing Coeliac UK's leaflet on mouth ulcers, and suggested that I mention this to the GP. The GP took some blood tests and 9 months later a biopsy confirmed that I had coeliac disease. My diagnosis came as a shock and ultimately changed my career as a Product Developer, as I could not safely taste the food that I was developing - but it has led to me working at Coeliac UK which I wouldn't change.
"After my diagnosis, I was well supported as my mother had been diagnosed four years previously and was able to share her knowledge and experience. I also had knowledge of food from my degree, so I was well placed to change my diet for the better! It's been an interesting and, at times, funny three and a bit years since my diagnosis - I've had to explain many times whilst eating out that I won't be needing the vegan menu and that coeliac disease is neither an allergy or intolerance. My favourite "coeliac correction" I had to make was explaining to an ex-colleague that I'm not a celeriac and I don't have celeriac disease (though it would be easier to give up celeriac than gluten if given a choice)!
"Now that I've told my story, I'd like to share some ideas for edible gluten free Christmas gifts. I made the below during my second and third years at university, when I was strapped for cash and needed low cost gifts for my family."
Lemoncello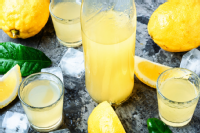 "For the Lemoncello you will need 2 x 1L jars with lids and some decorative bottles and labels to gift, 6 lemons, 1L of vodka, 800g caster sugar and 800ml water. You need to remove the zest from the lemons, either with a knife or peeler, but be careful not to include any of the pith as this is bitter. In the clean jars, split the vodka and lemon between them and screw the lids on tightly, set aside for a week or two and give them a shake every day. After the first infusing period, add the sugar and water in a pan over a low heat to dissolve the water. Once dissolved and cooled, add to the jars and allow to infuse for a further week or two depending on how much time you have, again giving them a shake every day. Strain into decorative bottles and add some lemon zest, decorating with labels and ribbons. I love to keep the Lemoncello in the freezer as I prefer an ice cold sip after my Christmas meal!"
Mulling syrup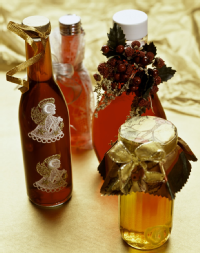 "Mulling syrup is another great option to make for Christmas as this can be added to wine, cider or non-alcoholic options like sparkling water or warm squash, (add 200ml to a bottle of wine). To make, take a deep pan and add 500ml water and 400g brown sugar; bring slowly to the boil, stirring occasionally. Meanwhile split a vanilla pod and scrape out the seeds, adding it all into the pan along with, 2 cinnamon sticks, 10 cloves, juice and pared zest of an orange and lemon. Once it's been bought to the boil, allow to cool and infuse, preferably overnight. Strain into decorative bottles adding in the vanilla pod for decoration.
"If you're making a gift for children, a "DIY" hot chocolate is a fun alternative. Buy a special mug or latte glass and fill it with some 4 tsp hot chocolate powder*, ½ tsp cinnamon, a handful of mini marshmallows* and some chocolate buttons*. Add a small card with instructions, telling the recipient to remove the marshmallows and chocolate buttons, add hot milk and stir until dissolved, then add the marshmallows and break the buttons over the top."
"The next bunch of edible gifts are gluten free cakey biscuit heaven all from our Home of Gluten Free Recipes. I made the shortbread for one of the first Christmases my mother was diagnosed, adding in some Christmassy spices and it was enjoyed by everyone!"
"I've gladly taken up the role of cooking Christmas dinner when spending it with my parents, mostly because I'm a bit of a nosey chef in the kitchen and can't help but offer my opinion on whatever is bubbling or roasting away. I think my mother was glad when I offered to take over the whole meal, as it meant she could finally relax on Christmas day without a Gordon Ramsey type figure, minus the swearing, patrolling the kitchen with a tasting spoon! With two of us in the family now diagnosed with coeliac disease, I've got the head chef role and can make sure that the whole Christmas meal is made gluten free for ease in the kitchen. It also just goes to show that when using the right recipes and techniques, gluten free food can be eaten by all.
"Leading me to my next couple of ideas for gluten free edible gifting which can be made in batches for both those on a gluten free diet and those who aren't!"
Have you enjoyed reading Sam's story? Or tried making your own edible gluten free gifts? Let us know on Facebook, Twitter or Instagram, and don't forget to use #GFChristmas!
If you're looking for more Christmas recipe inspiration, why not head over to our Christmas Market?
*Find suitable products on Coeliac UK's Food and Drink Information page.