Easy tray bakes
We've got three down right delicious recipes developed just for you. These tray bakes are not only are they delicious they're so simple to make, bung the ingredients into the tray, set the timer sit back and have a cup of tea, or whatever jobs need doing!
This time our Coeliac UK Foodies have picked their favourite out of the three, first up we've got Nicola's pick.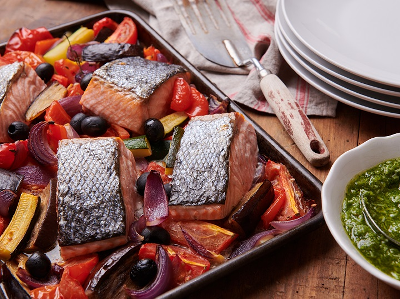 Packed with delicious vegetables and salmon, which is rich in omega 3 and a good source of vitamin D, this really easy rustic tray bake is ideal for a mid week supper.
Lorna likes this recipes because it's a quick, easy and low budget meal. Great for when you need a tasty meal and are in a rush! Eggs are a rich source of vitamins and minerals and are one of the few foods that contain vitamin D, helping the body absorb calcium to support bone health. Have it at breakfast, lunch or dinner!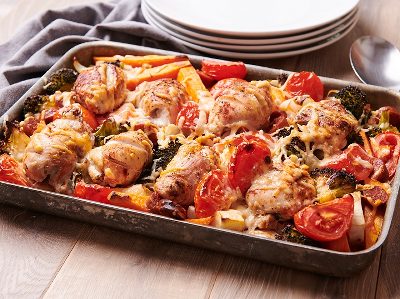 This hearty dish gives you a well-balanced meal in one sitting. The chicken and chorizo providing you with protein, a range of vegetables full of vitamins and minerals as well as fibre and the sweet potato providing all of those nutrients and a source of carbohydrate. The cheese topping will also contribute to one of your daily calcium portions and will taste great!
This last recipe is a member only recipe, please log in or join us to view. Keep a look out for our foodies feature next month in the newsletter or the Home of Gluten Free Recipes Page.