Pharmacy led supply schemes Other ways to deliver gluten free prescriptions
Pharmacy led supply schemes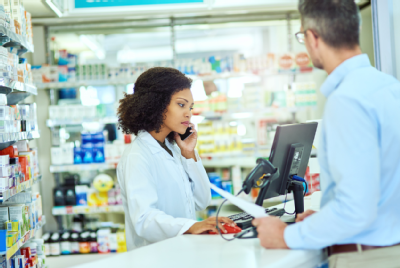 In some areas it's possible to get gluten free staples directly from a local pharmacist rather than a GP. These pharmacy led prescribing schemes are designed to simplify access to gluten free prescriptions and save GPs time. If you use these schemes, you should still visit your GP if symptoms reappear or change, and they can refer you to a dietitian if needed.
Scottish Gluten Free Food Service
The Scottish Government has launched an NHS Gluten Free Food Service across the country available through local pharmacies.
To be eligible to use the new Scottish Gluten Free Food Service you must live and be registered with a GP in Scotland and have a clinically confirmed diagnosis of coeliac disease or dermatitis herpetiformis (DH). Those who live in care homes will not be able to use the service but can continue to access gluten free prescriptions via their GP.
This service allows you to:
order and receive gluten free food without routinely visiting your GP
have more control over the amount and type of gluten free staple foods ordered each month (up to an agreed amount in line with the National Prescribing Guidelines)
change your prescription requests each month, adding dietary variety
receive an annual health check at your community pharmacy to help monitor and signpost you to the correct healthcare professional if required (only available to adults with coeliac disease or DH)
Those who are eligible to be included within the Scottish Gluten Free Food Service would have been informed by their GP about the service and their gluten free unit allocation.
You will need to complete a registration form and return it to a community pharmacy of your choice, where a pharmacist will register you and provide more information about the service processes. Even if you don't want to access gluten free food on prescription, you should still register with a pharmacy so that you can receive your annual health check.
For more information visit NHS Inform.