Ultimate gluten free Father's Day
Celebrate #gfFathersDay with our ultimate gluten free burger experience, in partnership with Panasonic.

Making these soft brioche buns and tasty beef burgers is a great way to introduce children, friends and family to cooking gluten free, and to treat someone special on Father's Day. Get started with the below resources:
Easy to follow recipe video
PLUS find more burger toppings, sides and dessert ideas below
Download invitation, card and chef's hat
Getting started
To begin, download and print off the recipe card to make sure you have everything you need.
If you're cooking with children, download and print off the invitation, Father's Day card and chef's hat, and ask them to colour in and decorate, ready for the big day!
If you're not local to the person you're celebrating with, you could share the recipe with them virtually, then get together on a video call to compare your burger buns, toppings and sides.
What's on the Menu?
The ultimate gluten free burger
Download our recipe card to create the ultimate gluten free beef burger.
We have worked with Panasonic to create a very easy gluten free brioche bun using their new bread maker. Find out more about Panasonic bread makers here.
Don't have a Panasonic bread maker? Fear not - you can still make these brioche buns by hand and they will be just as soft and delicious.
Fancy something different?
If you'd like an alternative to beef, why not try these recipe ideas?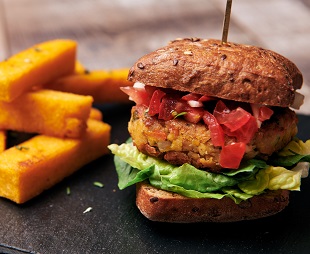 The Veggie
Meat isn't your thing? Don't worry, we've got you covered. Try our gluten free falafel burger. It's made using chickpeas and veggies, making it a great source of protein. We recommend serving with our cool salsa.
The Katsu
We know you loved the Katsu Chicken recipe we created for you last summer, and it also works well in our brioche burger buns. When preparing the chicken, cut the chicken into strips or burger shaped patties. Once you have the Katsu sauce and chicken ready, load up your brioche burger bun with the chicken and top it with a Katsu sauce, pickles and you're good to go! We love this alternative to the standard beef patty.
To top it off
Try these beery onions, designed to add an extra special touch to your burger.
All you need to do is heat 25g butter in a frying pan, add 2 sliced onions and cook for about 10 minutes until soft and golden. Then add 1 tbsp caster sugar and 300ml gluten free beer and reduce to a syrup. Pop them onto the burger and enjoy!
Breakfast burgers are well and truly messy with a runny egg yolk but they're equally as tasty. Top your burger with brown sauce, bacon, fried egg and a hash brown.
Other toppings you could try:
Smoked cheddar for extra BBQ flavour
Gluten free onion rings for added crispiness
Mustard and rocket for a real peppery kick
Slices of roasted red pepper and melted mozzarella for a Mediterranean flair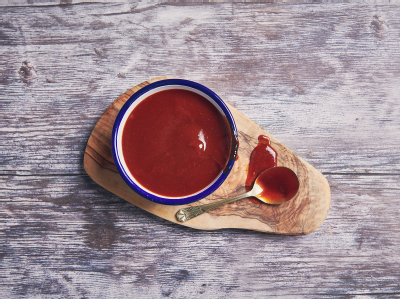 Adding sauce? Check the label!
Although most tomato sauces are suitable for a gluten free diet, we still recommend checking the label. BBQ, burger and brown sauce will need to be checked as they can often contain barley malt vinegar or barley malt extract, which isn't suitable for a gluten free diet unless the product is labelled gluten free. If you're unsure whether a product is suitable for your diet, use our Food and Drink Information or Gluten Free Food Checker app to check.
If you want to have a go at making your own BBQ sauce here is an easy recipe for you to follow - it will keep in the fridge.
On the side
Why not try one of our sides: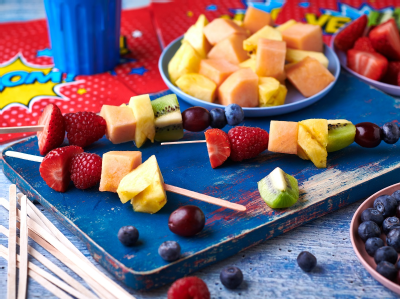 Something sweet if you still have space...
And if you're still in the mood for some more food, here are some sweet options for you to top off your feast:
Share your creations with us
We'd love to see your gluten free burgers and find out why you have made them for your special someone this Father's Day. Share them with us on Facebook, Twitter and Instagram using #gfFathersDay or email your photos to us at youngchampions@coeliac.org.uk.