Summer Street Food
Recipes fresh from our Live Well Gluten Free magazine, this collection is taking a trip around the world in street food so you can enjoy them at home.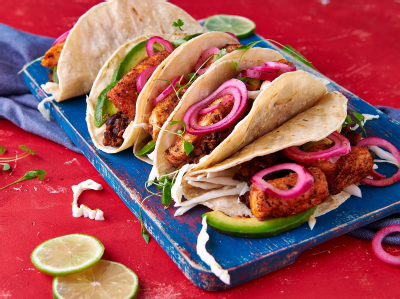 Start off in South America with our magazine cover recipe the zingy fish and black bean tacos full of flavour, colour and fun, a great recipe to assemble with the family. Make your way northwards to the United States to grab a carton of popcorn chicken. Crispy chicken with a garlic dip is gluten free, but you will be forgiven to you have to check twice it's that good!
After the America's the next stop is Europe. Originating from Spain and Portugal the sensational gluten free churros will have been a no go for so long for many of our members. We're please to share this recipe to put and end to that so you too can enjoy the crispy doughy cinnamon delight, accompanied with a rich chocolate sauce. The second stop in Europe is further eastwards with a Greek inspired loaded fries covered with mixed herbs, feta, olives and minted lamb meatballs. Veggie? Swap the meatballs with roasted peppers and cherry tomatoes.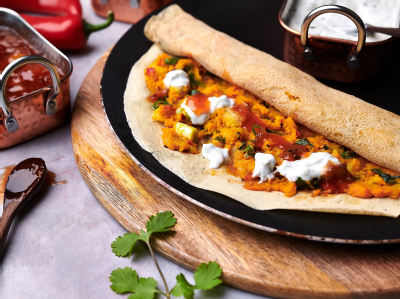 Our final leg of the street food world tour finishes in Asia. Featured in our spring 2020 magazine the Indian dosa packs a punch in flavour. Like a savoury pancake, filled with sweet potato, spices and mango chutney you don't want to miss this. Finally, the light Vietnamese pizza is a versatile lunch option. Using naturally gluten free rice paper and egg as the base, topped with either prawns, tuna, bacon and a drizzle of sriracha mayo you're good to go!
Find these recipes below, make them and share them on our social media. Got some street food recipes you want us to make, send us a message!