The Humble Potato
Oh the potato! We don't need to tell you how deliciously gluten free, versatile and cheap it can be, it can be used in so many mouth watering ways, especially around Christmas time when big feasts are all the norm.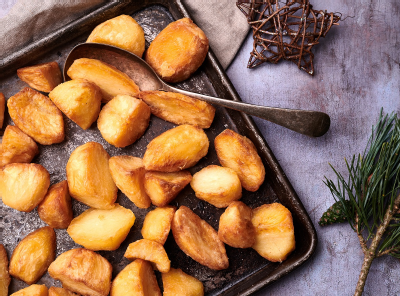 First up, we've got the classic roastie, a roast dinner would not be complete without a spud with a really crispy outside and fluffy centre. We have the combination of the goose fat and gluten free plain four to thank for the crunchy outside and choosing the right variety of potato will help to get the perfect texture on the inside.
For our next offering this is a Christmas take on the Boulangère potatoes. Boulangère roughly translates to baked in the oven with this recipe being similar to dauphinoise, but instead of using cream this uses stock.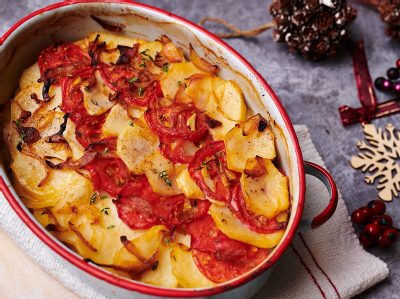 This makes it lighter and cheaper to make. In this recipe we have adding a pinch of cinnamon for a touch of a warming spice and using red sliced tomatoes to create a christmassy feel.
If the crispy roast potatoes weren't enough for you, we've got another way of roasting potatoes to get maximum crispness on the outside. Although you do need to take a bit more care over the Hassleback potato when preparing, they have become more and more popular due to their impressive look when roasted and fanned out.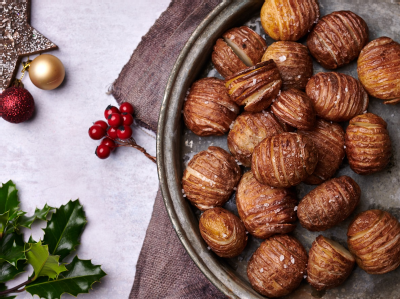 Using chopsticks of something similar will help ensure you don't cut all the way through the potato. Again we've used gluten free flour though, if you don't have any in it isn't necessary.
Finally, the Fondant potato, oozing full of garlicy flavour enhanced by cooking it firstly in butter then transferring to the oven to cook further in stock this results in a real decadent way to serve potatoes.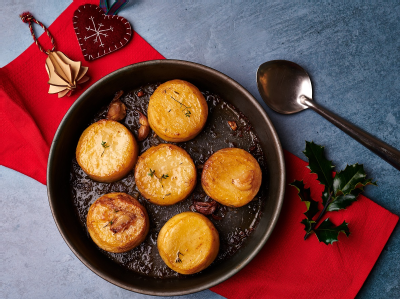 Our Christmas recipe inspiration doesn't stop there, we've plenty more! If you're looking for edible gifts, outstanding mains, more Christmas sides, sharing platters or desserts we've got you covered! Or explore our Christmas Market for all things gluten free this Christmas.